4 Tips for Boarding your Pet
Are you ready for vacation but not sure what do with your pet? The following 4 tips will help to make your vacation time away from your furry family members enjoyable and relaxing for both you and your pet!
______________________________________________
Tip 1: Choose the boarding facility wisely!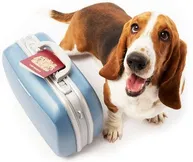 Boarding an animal should never pose a risk to their health and welfare. Begin the search by asking your veterinarian and friends for recommendations of local facilities. Make a trip to see the facility for yourself before making a decision.
Ask for answers to these following questions:
Does the facility require full proof of vaccination from all animals prior to boarding? Facilities that do not require vaccination proof increase the chances for boarded animals to become ill, and you should walk away from them.
Are all animals required to be on flea and tick preventions? If not, your pets may be exposed to blood borne diseases and possibly bring the little monsters home!
What steps are taken in the even of an emergency? How is facility staffed? Is there an employee at the facility at all hours? Do they have an on-staff or on-call veterinarian? Is there an established emergency plan to follow should something happen to your pet and you can't be reached?
Are tours of the facility offered? If yes, take one! Evaluate if you are comfortable leaving your pet there. If no, you should seriously consider looking elsewhere.
______________________________________________
Tip 2: Contact your veterinarian's office to see if you need to make an appointment for your pet at least 3 weeks before you need to board you pet.
Make sure your pet is up-to-date with all vaccination requirements. Typically, the rabies, distemper and kennel cough vaccines need to be current with dogs. Rabies and distemper vaccines are the usual basic requirements for cats.
Ensure your pet is in good health and is fit for boarding. If you have a pet that requires constant medication or special care needs, discuss the requirements with the kennel before you choose them to make sure that the kennel is able to handle your pet's needs safely. Ask your veterinarian to send a copy of health and shot records to be given to the boarding facility, you may need to sign a medical release. If not done already, consider microchipping your pet to have permanent proof of ownership/identification of your pet. If your pet is microchipped- make sure your registry information is up-to-date just IN CASE your pet escapes.
______________________________________________
Tip 3: Before your vacation begins, compile the following to leave with your pet's caregiver:
1. Your vacation contact information.
2. Emergency contact information of a local friend.
3. Family veterinarian's name, address, and telephone number.
4. Copy of the pet's medical history, shot records and dietary needs.
5. Prescription information with a written explanation of dosage requirements and administration times.
6. Appropriate contact information securely attached to collar.
7. Prepared food for meals in packages that are easy to give.
8. Bag of pet's favorite treats and a few of their toys.
9. Bed or blanket for comfort to remind them of home. (My dog likes a stinky t-shirt that smells like us)
______________________________________________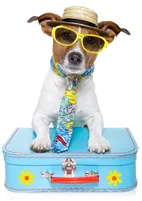 Tip 4: Consider the alternatives.
A pet that is elderly, requires special medications, is afraid of strangers, or nervous in different environments may need a different arrangement than a boarding kennel.
Consider arranging for a friend, neighbor or relative to look after your pet either at your house, or theirs.
Ask you veterinarian about products available to calm you pet during stressful situations. (We have found the calming pheromones very helpful here at the clinic- Adaptil and Feliway)
If hiring a pet sitter, be sure to:
Meet, interview, and check their references.
Make sure that both your pet and the sitter are comfortable with each other by making sure the sitter visits at least once to learn the routine and meet your pet before their time together begins without you there to supervise.
______________________________________________
We love to have our pets with us, but that isn't always an option. Following these 4 tips can help ease your concerns about leaving a pet behind when going on vacation.