COVID-19 UPDATES
WE ARE ABLE TO TAKE A LIMITED NUMBER OF NEW CLIENTS AT THIS TIME. We are not able to do emergencies for new clients.
WE ARE CURRENTLY CURBSIDE ONLY- please call when you get in the parking lot and we borrow your pet for the exam and then come out to you to discuss the findings.
Please note we are currently booking 1-2 weeks for routine appointments and it may be a few days for non-emergency health problems to be seen.
We understand that there is a significant amount of worry and uncertainty regarding the COVID-19 pandemic as to how it will affect us in the quiet corner. We want to reassure you that our goal is to remain open for your pet's veterinary needs. We are a very small 1 doctor practice, so keeping Dr. Norris healthy is of utmost importance. If she becomes ill, we may need to close entirely until she is able to be working again.
We have ALWAYS taken health seriously. We feel that maintaining your health, your pet's health and the health of our team is important and have implemented an even more intense sanitizing protocol for our public areas.
In an effort to keep everyone as safe and healthy as possible, we are asking you for some help.
1)WE ARE CURRENTLY CURBSIDE ONLY WITH THE EXCEPTIONS OF EUTHANASIAS
2) Euthanasias still require that we are outside of the building in our kennel.
3) If you are picking up meds/food only- we will have you pay over the phone and we will bring it out to your car.
4) We are ABSOLUTELY ZERO TOLERANCE for abuse towards our employees. We understand people can be frustrated, but any abuse will cause you to be permanently fired as a client.
If you or your family is formally diagnosed with coronavirus and are quarantined at home, we request you put off any well-pet needs. If you pet is sick or injured, call us and let us know your situation so we can create the best plan of action.
Thank you for following these guidelines. As always if you have any questions or concerns, please call us for help 860-928-0841
Welcome to Pomfret Small Animal Clinic
Your Veterinarian in Pomfret Center, CT
Call us at 860-928-0841
Pet Emergency? Call us right away at 860-928-0841!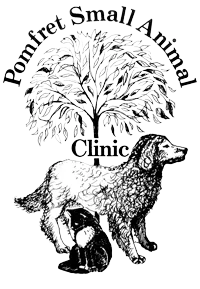 We are a full service small animal clinic located in the northeast corner of Connecticut. We see all companion animals, including dogs, cats and pocket pets.
What We Do
We use our skills as veterinary professionals, pet owners, and educators to balance the wishes and resources of our human clients with the needs of our animal patients.
Through personalized care, we wish to educate our clients so they can successfully navigate the exciting
and ever-expanding world of veterinary care. We understand not every care option available is appropriate for every patient. The owner and care team will help to create the proper balance for each individual patient.
At Pomfret Small Animal Clinic, we treat your pets like the valued family members they are.
Mary Elizabeth Norris
Pomfret Center Veterinarian | Pomfret Small Animal Clinic | 860-928-0841
54 Orchard Hill Road
Pomfret Center, CT 06259